Most recent event:
Thursday, 16th January 2020, 7.30pm
The Arts Hall, Chepstow School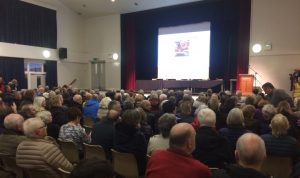 A meeting with local politicians and other decision makers to find out about developments concerning traffic in Chepstow and how plans are being implemented since the last meeting in April 2019.
View the presentation shown at the meeting below:
Previous updates: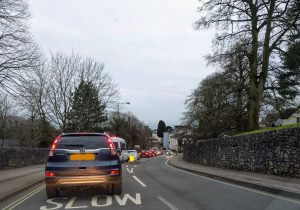 Thursday, 11th April 2019
Arts Hall, Chepstow School, Welsh Street
Facebook event: Public Meeting to reduce congestion in Chepstow
2016 Update
The Transport Group met on 24th November 2016. During a very fruitful meeting 4 actions were decided to focus on to reduce carbon emissions and encourage Electric Vehicle (EV) usage:
Lift Sharing – In partnership with MCC and Chepstow TC using current apps use the Newhouse Industrial Estate, a safe place for parking for lift sharing.
Electric Vehicle (EV) Charge Points – In partnership with MCC, Chepstow Town Council and Gwent Energy install Chepstow's first EV charge points
Electric Vehicle (EV) Open Day – In the New year have the major EV suppliers exhibit and offer test drives for their vehicles on Saturday in Chepstow – In partnership with Chepstow Town Council
Free Bridge Toll for Electric Vehicles – To recommend the the Welsh Government to make the Severn Bridge Toll free to electric vehicle to encourage early adoption.
If you are interested in any of these actions, you can contact Tim at transport@transitionchepstow.org.uk or look out for the monthly meetings at the Lime Tree.
Previously:
The Transport Group is looking for a new Co-ordinator! Having worked hard for several years and achieving a great deal for the group, Jen & Nik stepped down from this role in 2015 to focus on specific local projects. If you are interested in finding out more about this role, please contact Tim via transport@transitionchepstow.org.uk.
The Transport Group aims to encourage sustainable transport in and around Chepstow by providing information to people about alternative forms of transport to those that use oil and pollute the environment. It achieves this by working as a satellite group for Transition Chepstow. We meet regularly to discuss new initiatives and ongoing projects such as:
A walking/cycling map of Chepstow showing cut-throughs and quicker ways to get to work than using a car. Chepstow Transport Map
Working with Better Trains 4 Chepstow to improve the local rail network so that more people can commute directly from Chepstow to large conurbations such as Bristol, Newport and Cardiff.
Encouraging local people to cycle and walk by setting up sociable group events and publicising them well to include all capabilites.
Sustrans initiative to create a Wye Valley Cycle Path, this has been granted planning by Forest of Dean Council and we await further news from Monmouthshire Council before April2012. Please visit  www.wyevalleycycling.org.uk or write to MCC to register your support quoting planning reference number DC/2010/00783.
Jayne Worrin has initiated the Bike Club at Pembroke Primary School on Monday afternoons in term time and occasionally Free Bike Repair Sessions are organised  in the grounds of a school where young people can ride in a safe environment and have their bikes checked over at the same time.
The Air Quality Management Steering Group re-convened on 21st March 2013 to implement an Action Plan for reducing pollution around Hardwick Hill, some of the proposed measures include encouraging less car use so tie in well with what we are doing.
Recently as part of the yearly activities which have developed for National Bike Week the Transport Group proposed holding seasonal Transport Awareness Days that include a Free Bike Fix and local rides. This idea has evolved into the Chepstow Mini Transport Fest the first event took place at Le Place de Cormeilles, Chepstow on 15th June 2013.
Everybody who has an interest in Sustainable Transport and a transition to a cleaner more sociable local environment is welcome to attend our meetings.
The Cafe Touring Club, (born on Friday 6th January 2012) Ladies (and gents) who like cycling out into the quiet lanes around the beautiful Wye Valley to cafes /pubs for a cup of tea (or something stronger). So far we have visited Happa Pony Centre Cafe via new cycle path to St Arvans, then back lanes to Tintern, followed by Brockweir and Hewelsfield and back along a lovely 4 miles descent to Chepstow. We cycled via Sustrans routes to Shirenewton and along to Wentwood, stopped at the wonderful Woodlands Tavern, (CTC recommended) in Llanvair Discoed for lunch then back along quiet lanes. This was a surprise venue, which is what the Cafe Touring Club members love. We cycled across the Severn Bridge via Tockington and up to Old Down Country Park where there is the amazing Old Down Manor Café complete with woodburner and settees and great food. Nice quiet lanes. Came back via Sustrans route thru Ingst and Aust, great weather, afforded good view of the Bridge.
National Bike Week Each year the Transport Group organise Rides to suit everyone starting from Chepstow aiming to leave the town on traffic free routes where possible. In 2012 NBW built on the hard work of 4 years and had a successful  week starting with Jayne Worrin's team and some of their children from Pembroke Primary Bike Club participating in the Big Bike Fix at Bank Square Chepstow on Saturday 16th June. There we used the new tool kit and bike stand paid for by the grant funding to do basic care and repair to children's and adults bikes. We met quite a few people interested in joining the local rides.
At the same time we asked for feedback on the Draft Edition of the long awaited Chepstow Sustainable Transport Map.
The Local Community Police Officers turned out to tag the bikes with anti theft badges.
Chepstow Review also turned out to photograph the team who carried on despite torrential rain threatening to flood the Gazebos.
For ATB enthusiasts Sarah from 559 Bikes, Manor Way, Chepstow organises rides one Tuesday evening each month from their shop venue.
For information about another Sustainable Transport Initiative, how about looking at this Transition Totnes Website: http://www.totnesonthemove.org.uk
Contact
Tim – transport@transitionchepstow.org.uk
Facebook page: