So far, 20 Chepstow businesses have signed up to say that they are committed to reducing single-use plastics as part of the Plastic Free Chepstow campaign. Some have already cut out at least three items, some are completely plastic-free, others are working on it.

Heading the list of plastic free heroes is Monmouthshire Upcycle, whose eco-store on Station Road sells a range of household products that buyers can refill their own containers with, such as washing up liquid, cleaner and laundry liquid, as well as shampoo bars, bamboo toothbrushes and cotton bags to replace plastic ones when buying loose vegetables.
"We're not expecting anyone to go completely plastic free – the key is to keep it simple and make a difference by changing one or two habits. Our washing up liquid is a good example – it's very good, it's made in the Forest of Dean, it's at least as cheap as competing brands and you can use the same bottle again and again."
Nadine Jones, Deputy Manager, Monmouthshire Upcycle
Cherished Earth Wholefoods also sells refill products and will refill customers' water bottles. Owner Iain Mills is a founder member of Plastic Free Chepstow, and the business is trying to cut out all single use plastics.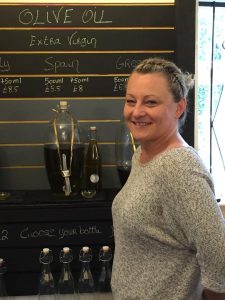 At neighbouring Tell Me Wine on Riflemans Way customers can refill wine and olive oil bottles, they are using paper packaging where possible and encouraging customers to re-use bags.
"All this stuff that's just thrown away – it drives me crazy!"
Christine Voisin, Tell Me Wine
Nearby Love and Light, alternative medicine practitioners, are also phasing out single use plastics.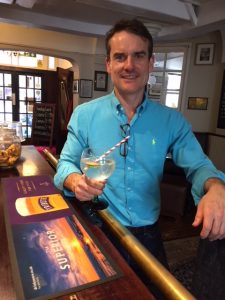 Gareth Collins of The Beaufort Hotel is a long-standing supporter of Transition Chepstow:
"Obviously, we all have a responsibility to think about what sort of environment we are going to hand over to our kids. They are only small changes we've made – giving up plastic straws, plastic cups and so on, but all these small changes help."
Gareth Collins, The Beaufort Hotel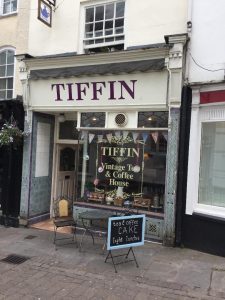 Tiffin Tea Rooms has phased out plastic straws, uses refillable bathroom products and offers a 10% discount to customers who bring their own cups for takeaway coffee.
"I've always tried to be plastic free – the rest of the world is catching up with me!"
Nic Meyrick, Owner, Tiffin Tea Rooms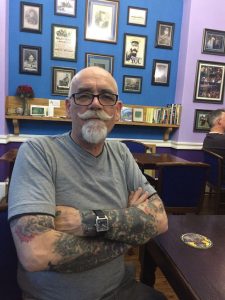 The Greenman Backpackers Hostel is also looking to get rid of all single use plastics, for example using paper bags instead of plastic for packed lunches.
"This is a really positive move. We have to get rid of as much single use plastic as possible, as soon as possible. And my customers will appreciate it."
Mick Lewis, The Greenman Backpacker Hostel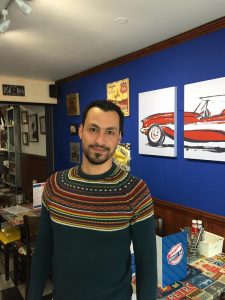 Diner Route 66 is replacing polystyrene cups and food containers with non-plastic alternatives, and using wooden stirrers and skewers.
"It's good for business and good for the town."
Gamal Omran, Route 66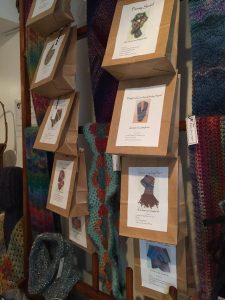 Jenny Skelton of jewellers Silk Road Bazaar is also delighted to see the Plastic Free movement taking off in Chepstow.
"I've always been passionate about not using plastic. We use paper bags and cellulose-based packaging, and a lot of our jewellery uses recycled materials."
Jenny Skelton, Silk Road Bazaar
Laura Jones of fashion and lifestyle business Eden Rose is keen not to create additional plastic. She has replaced plastic carrier bags with recycled paper, and is now using brown paper instead of plastic mailing bags – as well as a reusable coffee cup for her coffee breaks! Near Chepstow, Maybee Glamping has given up all single-use plastics.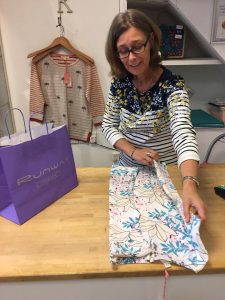 "It's always been one of our policies to have a low carbon footprint. Most of the fittings in the shop are re-used or recycled, and we use paper carriers or tissue paper. I'm working on my suppliers to do the same!"
Angela Seymour, Runway Fashion
Chepstow Bookshop will be cutting out plastic bags and plastic-wrapped greeting cards, and is looking at alternatives to plastic packaging for its mail-order businesses. Matt Taylor explained that what motivated him to sign up for Plastic Free Chepstow was reading the book No.More.Plastic. – whose author Martin Dorey spoke in Chepstow recently.
"It made me think about what we can do, both as individuals and as a business."
Matt Taylor, Chepstow Bookshop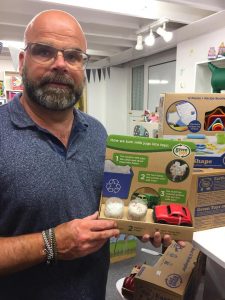 Toytastik stocks a range of recycled and plastic-free toys, is replacing plastic bags, and working where possible with suppliers who don't use single-use packaging. Jon Amphlett was influenced by watching Sky News Ocean Rescue.
"It made me realise how much damage we are doing to our planet. So we have been trying to do our bit, both at home and in the business."
Jon Amphlett, Toytastik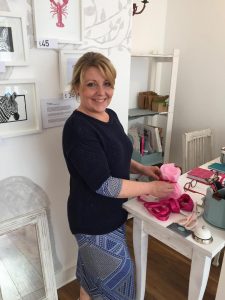 Gail Gilliland of pottery studio Paint on Me gave up plastic straws when she learned that they could last for up to 200 years. Since then, she has also moved to paper bags and tissue instead of plastic-coated boxes, gave up disposable plates and cups and also switched to bio-degradable glitter.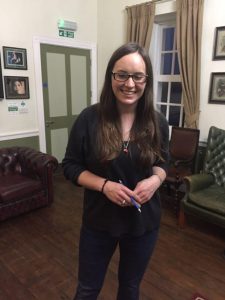 Language specialist Moore Language Solutions has switched to refillable ink cartridges and given up plastic parcel packaging.
"I've been keen to make a difference in Chepstow since moving back here. Working with Plastic Free Chepstow and signing up to reduce my plastic use is a step in the right direction."
Charlotte Moore, Moore Language Solutions
Estate agents Moon and Co. are phasing out all the single-use plastics in their business, and have also signed up to refill water bottles, as has another leading local estate agent Archer and Co. The Preservation Company and Stone Rock Pizza are the latest two companies to sign up.
It is no coincidence that these are local, independent businesses.
"Local businesses have more freedom of action, and also more stake in the local environment. If you support these local businesses, you are strengthening the local economy and also helping to cut down on plastic."
Sue Kingdom, Secretary of Chepstow Chamber of Commerce
It makes business sense too. Although some substitutes for plastic are a little more expensive, there is inevitably going to be more and more legislation on single-use plastic over the coming months and years. Companies who are looking at alternatives now will be ahead of the game.
Plastic Free Organisations
It's not just commercial businesses who have a part to play. Chepstow Town Council resolved in March 2018 to cut out single use plastics from its own premises and the events it supports. Local community centres Bulwark Community Centre and the Palmer Centre have signed up to become plastic free, cutting out items such as plastic straws, cups and cling-film. Chepstow Methodist Church and Chepstow Baha'I Faith are taking similar measures. Chepstow Library is also participating.
"We enthusiastically endorse all efforts to go plastic free in Chepstow as we are committed to caring for God's creation."
Minister of Chepstow Methodist Church
If you are running a business in Chepstow and want to reduce the amount of single-use plastic in your business please get in touch with us at plasticfree@transitionchepstow.org.uk or through our Facebook page. We are aiming to get at least 30 businesses formally signed up as being plastic free by the end of 2018.